Paper delivery delights 75 kindergartens
For the second year in a row, printing company Kroonpress' paper donation campaign proves successful with a mountain of requests totalling 430 reels of discarded newsprint. Tis' the season, so all wishes were granted!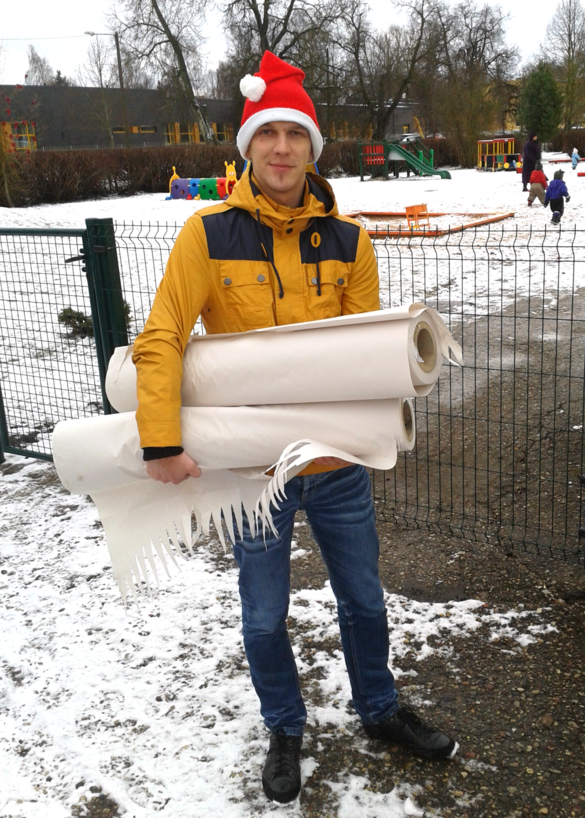 Photo: Kroonpress elf Martin Kohv.
Estonian printing company Kroonpress participated in the "Lasteaiad murest vabaks" ("Let's help kindergartens") campaign hosted by donation-portal Spunk.ee for the second time, generating a large amount of interest in over 500 Facebook shares and a total of 75 kindergartens requesting 430 reels of discarded newsprint, totalling over 4 tonnes in shear weight. Each reel contains around 40 metres of unused and good quality newsprint paper, which is suitable for painting, drawing or handicraft.
Among the requests, 29 were local Tartu-based kindergartens, who received their paper at their doorstep thanks to free delivery by the Kroonpress elven team. The paper was received with joy and surprise, as not everyone was expecting to have their request fulfilled. Alas, there was one kindergarten that denied our paper, despite being on our list. Fortunately, it was not due to a likely substitution of paper by iPads, rather than still having last year's paper to spend.
We hope to deliver them some paper next year, though, as paper boosts creativity and elongates the life cycle of paper. For Kroonpress, paper donation is a way of showing it cares for its community. Till' next time!